Media and Stories |

Press release
Zefiro 40 (Z40) Engine Bench Test
08.03.18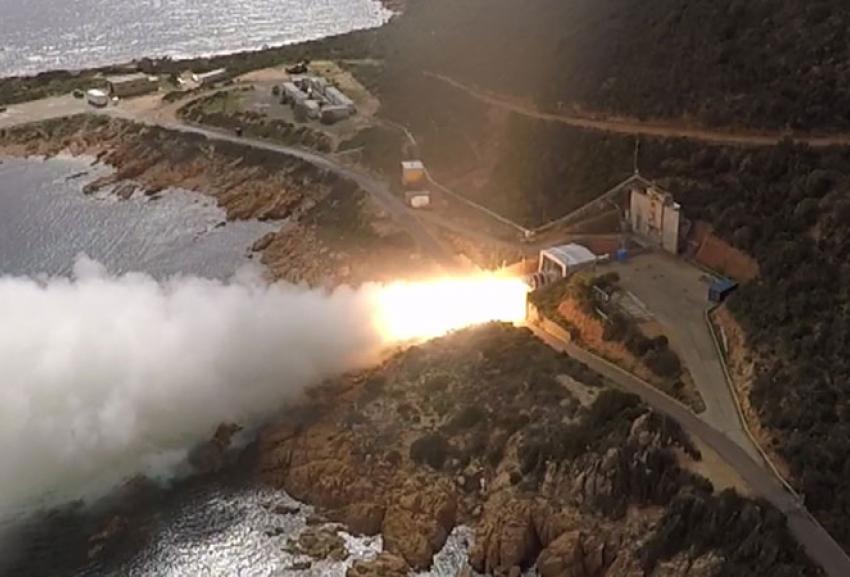 IT WILL BE THE SECOND STAGE OF THE NEW EUROPEAN LAUNCHER VEGA C
Colleferro, 8 March 2018 – Four weeks of preparation, 20 skilled technicians and operators involved, over 500 measurements recorded by the sensors during the 92-second ignition, enough to burn 36 tonnes of solid propellant and generating a thrust 4 times higher than the maximum power developed by the engine of a modern passenger aircraft.
The Zefiro 40 engine test took successfully place in recent day in Sardinia and it's the first functional test required to qualify this new propulsion system. During the test, which was performed at sea level, all of the parameters were gathered to calculate the engine's behaviour at conditions very close to what the Z40 will encounter in actual operation: ignition at about 50 km above the earth's surface after separation of the first stage P120.
In fact, the Zefiro 40 engine is the second stage propulsion system of the Vega C satellite launcher, an evolution of the current Vega and scheduled to lift off for its maiden flight in 2019. With Vega C performance will be increased by 60%. This extends the market accessible to this launch vehicle from 50% to 90% of LEO (Low Earth Orbit) satellites, a significant part of which as multiple payload launches.
"Our success in the Z40 engine bench test shows that the development of Vega C has entered a mature stage, in view of the qualifying flight at the end of 2019 – said Avio CEO Giulio Ranzo. – The extraordinary collaboration of our technicians with those of ESA, allow today to realize new technologies and cutting-edge products in an effective way, achieving ever greater performance and cost competitiveness. We are very satisfied and look forward to the latest development phase of the new Vega C launcher ".
 MAIN CHARACTERISTICS OF THE ZEFIRO 40:
Engine length: 7.6 m
Diameter: 2.3 m
Propellant mass: 36 t
Engine mass: 40 t
Average thrust: 1304 kN
Specific impulse: 293.5 s
Burning time: 92.9 s
AVIO FOR VEGA C
Avio will be responsible for the launcher in its entirety while, in collaboration with ArianeGroup , it will be responsible for the P120C solid propellant engine, which was derived from the first stage of the Vega P80 Launcher and will be made with prepreg carbon fibre material using Filament Winding technology.
The launcher burns approximately 187 tonnes of solid propellant and 0.7 tonnes of liquid propellant. In order to achieve the greatest level of synergies among European launchers, the P120C engine has also been designed for use as a booster for the new Ariane 6.