Media and Stories |

Press release
Vega: Twelfth Consecutive Success with Launch of Aeolus
23.08.18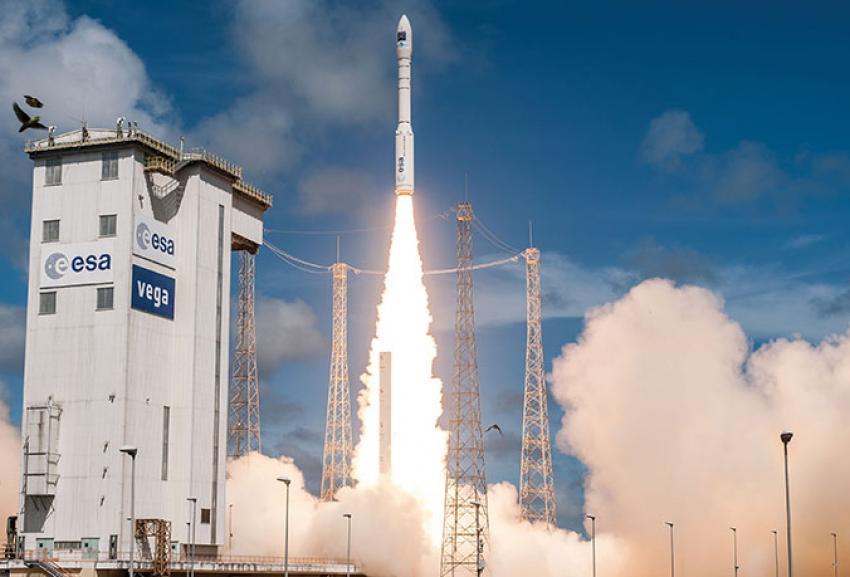 Kourou (French Guiana), August 22, 2018 – Vega, the European launcher designed, developed and constructed in Italy by Avio, has successfully concluded its first mission of 2018, correctly placing in orbit the ESA's Aeolus satellite.
This represents Vega's twelfth consecutive success since its first mission of February 2012. The European launcher again demonstrates its major reliability: for the first time in fact, a new launcher has had its first 12 launches without issue or anomaly.
With today's mission, Vega placed in low orbit a key ESA satellite (Aeolus) and the first to provide wind profiles on a global scale. Thanks to its powerful laser, Aeolus will improve our knowledge of tropical dynamics and processes in terms of climatic changes and, particularly, will further improve weather forecasting reliability.
The mission departed the Kourou Space Center in French Guiana on August 22 at 18:20 (23:20 in Italy).
"Yet another success for Vega, the European launcher largely constructed in Colleferro, Italy – stated Giulio Ranzo, Chief Executive Officer of Avio. Twelve consecutive launches is a world reliability record and confirms our European space launchers leadership.
Vega C – the new better-performing version of the launcher with a 60% improved capacity over Vega – will be available in 2019. In 2019, the new SSMS (Small Spacecraft Mission Service) will also be available, an adapter and dispenser which can place in orbit up to 30 small satellites simultaneously with Vega/Vega C, ensuring therefore Space access at competitive prices also to this market segment. Avio is in the meantime working towards a further development called Vega E for 2024 in order to improve further load capacity and cost competitiveness".
Vega
Vega is a European launcher that was designed, developed and built in Italy by Avio, through its subsidiary ELV (30% owned by ASI, the Italian Space Agency). It belongs to a new generation of vehicles designed to transfer satellites into low Earth orbit (between 300 and 1,500 km from Earth) for institutional and scientific purposes, in order to observe the Earth and monitor the environment. 65% of the funding for Vega came from Italy and it was built in the Avio production plant in Colleferro, near Rome. It complements the family of European launchers and it is capable of placing into orbit satellites with masses of up to 2,000 kg.