Media and Stories |

Press release
AVIO: Vega in the Launch Pad
12.09.16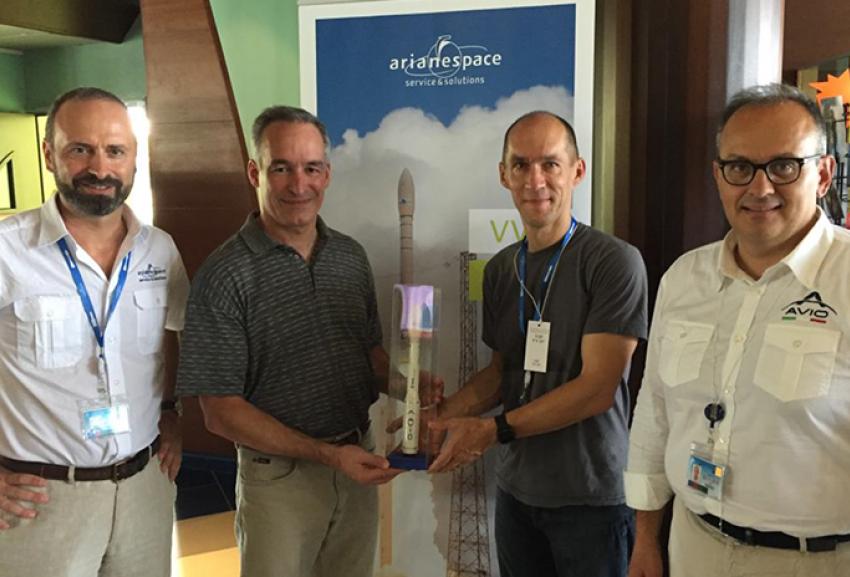 Vega, the European launcher built by Avio, is on the launch pad at the European Space Centre in Kourou, French Guiana, set to place into orbit satellites of major importance for everyday life.
The seventh (VV07) flight also signals the start of the commercial phase, for which Avio has already signed a contract for ten launchers with Arianespace worth in the region of 260 million Euros.
With the flight scheduled for Thursday, 15 September, Vega will position in low elliptical orbits four Terra Bella satellites for the observation of our planet and the first in the history of Peru.
Vega is the European launcher designed, developed and built in Italy by Avio through its subsidiary ELV (30% owned by ASI, the Italian Space Agency). Vega belongs to a new generation of vehicles designed to transfer satellites into low Earth orbit (approximately 700 km from Earth) for institutional and scientific purposes, in order to observe the Earth and monitor the environment. 65% built in the Avio production plant in Colleferro, near Rome, Vega is able to place into orbit satellites of a mass up to 1,500 kg and completes the family of European launchers.
This is a complex mission due to the number of satellites being carried – five in all – and their positioning in the nose cone, in which for the first time Avio is using the elongated version of its adaptor device named VESPA (Vega Secondary Payload Adaptor).
Terra Bella satellites weigh under 100 kilograms, are compact in size (60x60x80 cm) and capable of "photographing San Diego from San Francisco and seeing objects the size of a car while travelling at a speed of 9 km per second" (https://terrabella.google.com). They will be released approximately 42' after lift-off, and it will take another hour to release PeruSAT-1, a very high resolution (70 cm) Earth observation satellite weighing about 450 kg, developed for the Peruvian space agency CONIDA by ADS.
This flight follows the VV06 flight which took place last December, completing the development stage (VERTA) across the full spectrum of missions required: ballistic trajectory (IXV), low Sun-synchronous orbit (Sentinel 2A) and transfer orbit to the Lagrange point L1 (Lisa Pathfinder).
The programme of upcoming Vega launches is particularly busy. The VV08 flight, designed to place into orbit a satellite for the Turkish government, is scheduled for December 2016, followed in March 2017 by the VV09, also a "single payload", carrying the Sentinel 2B satellite.
The launch of VV10 (Optsat and Venus satellites) is scheduled for August 2017, while at the end of next year, as recently announced by the ESA, Vega will be placing into orbit the Aeolus satellite, designed to monitor the Earth's wind and cloud systems.