Media and Stories |

Press release
Vega: Eleventh Consecutive Successful Mission
08.11.17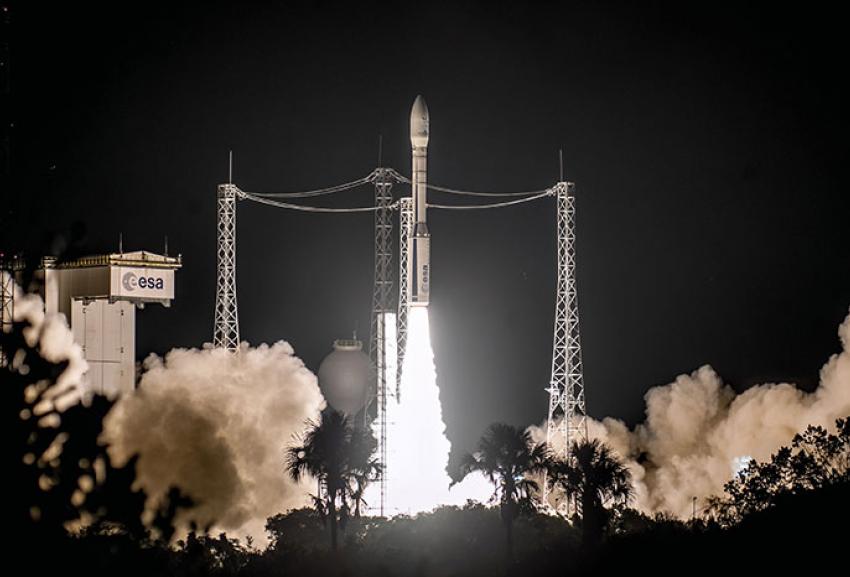 THE FIRST LAUNCH OF A MOROCCAN SATELLITE
Colleferro, 8 November 2017 – The eleventh consecutive mission has been successfully completed by Vega, the European launcher that was conceived, designed and built by Avio. It is an accomplishment that has further consolidated its leading international status in terms of precision and reliability.
On its third and final mission in 2017, Vega delivered into orbit the MOHAMMED VI-A Earth observation satellite, which was built for Morocco by Thales Alenia Space and Airbus.
The mission lifted off from the space centre in Kourou, French Guiana, at 10:42 pm on 7 November (02:42 am on 8 November CET).
"Vega has kept up its track record of consecutive successes," stated Giulio Ranzo, CEO of Avio. "We are proud to have helped to open up access to Space for a new country: the Kingdom of Morocco. This achievement underlines the effectiveness of our partnership with Arianespace and our European industrial partners."
"Furthermore, thanks to the high levels of confidence in us among our customers, Arianespace has recently signed a new contract for six Vega launches and four Vega C launches, giving a total of ten flights between 2019 and 2021," added Ranzo. "In the meantime, in our facilities in Colleferro we're continuing to develop launchers that are capable of offering ever greater performance. We have completed the second P120 casing and we're now ready for the bench-test firing of the first Z40 engine, for the second stage of Vega C."
Vega
Vega is a European launcher that was designed, developed and built in Italy by Avio, through its subsidiary ELV (30% owned by ASI, the Italian Space Agency). It belongs to a new generation of vehicles designed to transfer satellites into low Earth orbit (between 300 and 1,500 km from Earth) for institutional and scientific purposes, in order to observe the Earth and monitor the environment. 65% of the funding for Vega came from Italy and it was built in the Avio production plant in Colleferro, near Rome. It complements the family of European launchers and it is capable of placing into orbit satellites with masses of up to 2,000 kg.