Media and Stories |

Press release
The President of the European Parliament, Antonio Tajani, Visits Avio
11.03.17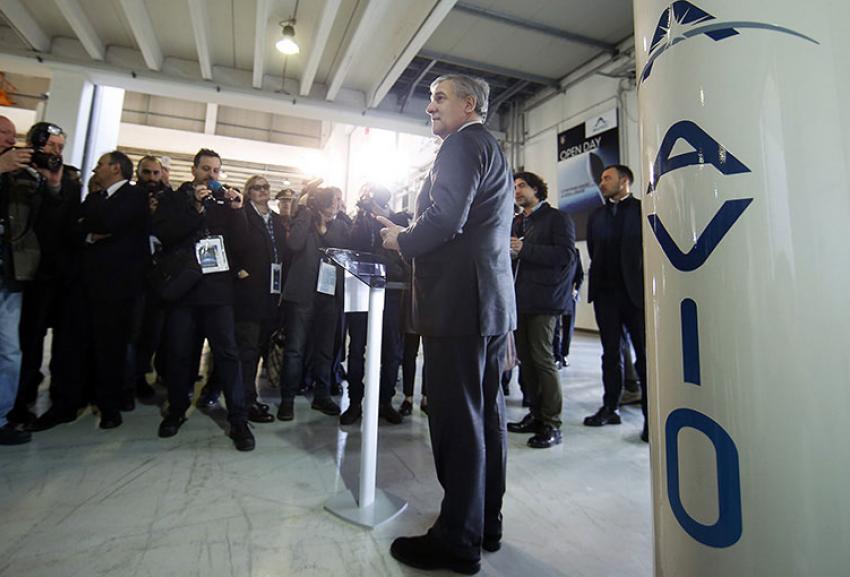 Colleferro, 11 March 2017 - The President of the European Parliament, Antonio Tajani, paid a visit today to the Avio production plant in Colleferro (Rome) welcomed by Avio CEO Giulio Ranzo. The meeting was also attended by Luce Fabreguettes, Senior Vice President – Missions at Arianespace, Josef Aschbacher, ESA Director of Earth Observation and Roberto Battiston, President of ASI (Italian Space Agency).
The visit, coming just a few days after the ninth success Vega launch from French Guiana, happened during the production of the first P120C, the largest single-unit, carbon fibre solid rocket motor ever built and developed using innovative technology in the frame of the programs promoted by the European Space Agency.
The new engine is lighter and more performing than traditional ones, is 12 meters long, 3.5 metres in diameter and will carry 142 tons of propellant. It is the first engine of a family (P120C) that will equip both Vega C and Ariane 6, the new European launchers that will be flying by 2019 and 2020 respectively.
Besides the Vega production plants, President Tajani also visited the construction site of the new plant where Avio will produce the new P120C motors for Vega C and Ariane 6. The facilities of more than 6,000 sqm is particularly innovative and equipped with state-of-the-art machinery for production and testing of the motors' cases.
President Antonio Tajani said: "The European aerospace industry plays a fundamental role for the competitiveness of Europe. Avio, buttonhole of the Italian industry, shows in this context to be able to work as a team with the European partners playing a very important role in the present and future launchers programs."
"The Vega project just shows that Europe is working together towards the goal of having its own independent access to space", were the words of the President of ASI, the Italian Space Agency, Roberto Battiston. "The production of a fundamental element of the European range of launchers in this factory shows how joint ventures increase programme effectiveness, cost saving and the capacity to compete in a strategic sector. The visit of President of the European Parliament, Antonio Tajani, is significant and can be taken as an acknowledgement of the value that the space industry embodies for the development and economic growth of our continent".
The CEO of Avio, Giulio Ranzo, added: "The visit of the President of the European Parliament here at Avio is proof of the attention paid by Europe on this crucial sector of the space economy: space launchers. Together with ESA and Arianespace, Avio was able to show President Tajani a real example of effective European cooperation between industries and institutions which makes technological development, new industrial investments and receives appreciation from the international markets. Avio participates to this mission with the goal to make access to space more and more effective, easy and safe."