Media and Stories |

Press release
Signed a euro 118.8 million contract with ESA for the development of Vega E
21.07.21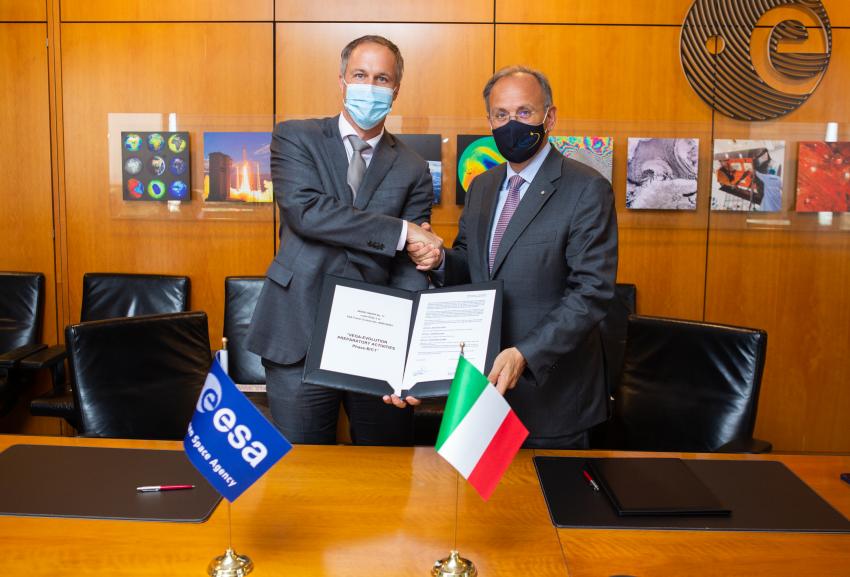 Rome, 21st July 2021 – In the ESA ESRIN headquarter of Frascati, the CEO of Avio Giulio Ranzo and the ESA Director of Space Transportation Daniel Neuenschwander have signed a Euro 118.8 million contract which ensures the advancement of the Vega launcher programme beyond 2025.
This contract marks the beginning of a new phase in the development of Vega E (Evolution), an improved and even more powerful version of Vega C, whose Maiden Flight is expected by the first quarter of 2022. Vega E will allow to further increase the performance, the flexibility and the competitiveness of the Vega programme through a significant increase in payload capacity and mission flexibility, resulting in a remarkably lower mission cost.
The heart of the development of Vega E is the new third stage cryogenic engine M10, which will be propelled with liquid oxygen and methane, and that will also help to improve the environmental footprint of the launcher.
"This contract is a tangible sign of the great trust that the European Space Agency, along with its member states and the Italian Space Agency, puts into Avio and its capabilities - stated Giulio Ranzo, CEO of Avio. These funds are very important as we get closer to the Maiden Flight of Vega C but we keep looking to the future beyond and to work on Vega E, which will be even more competitive with also a reduced environmental footprint. Indeed, by the end of the year we will be testing the M10 LOX-Methane engine in our new and completed Space Propulsion Test Facility in Sardinia."
Read the ESA's press release (italian language)