Media and Stories |

Press release
Flight VV19: another success for Vega
17.08.21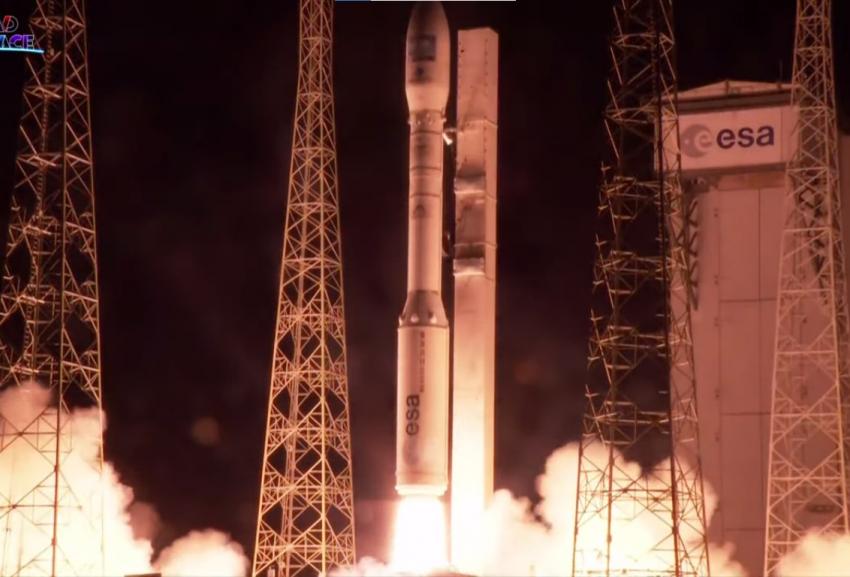 With flight VV19, Vega successfully puts in Sun-Synchronous orbit Pléiades Neo 4 along with four small satellites in ride-share, including one for the University "La Sapienza" of Rome.
Kourou (French Guyana), 16th August 2021 – Today's mission from Kourou's spaceport in French Guyana marked a successful mission for Vega's flight VV19. The European launcher, designed, developed and built by Avio, has perfectly placed in orbit the new generation French satellite Pléiades 4 Neo on behalf of Airbus Defence and Space along with 4 secondary payloads. One of these is the LEDSAT, an educational project of the University "La Sapienza" that has been conceived to investigate the performances of a technology based on Light Emitting Diodes for the optical stand-alone Low-Earth Orbit satellites tracking. The others are the RADCUBE and the SUNSTORM for astronomical applications and the BRO-4 for security applications.
The success showed once more the job done by Avio and its partner Arianespace to offer with Vega a competitive and reliable launch service. The European small lift rocket confirms its ability to transport groups of satellites into orbit together with a main payload. This capability, combined with the new SSMS payload adapter, successfully tested in flight VV16, increases the versatility of Vega, to better compete in the microsatellite market and offer more launch opportunities to customers.
"The successes of flights VV18 and VV19 showed the results of the hard work of Avio and its partners, confirming Vega as a reliable and competitive rocket. I want to thank once more our team, our partners and our customers for their confidence in our company and our rocket. Let's focus now on the next flight, VV20, expected in fourth quarter of the year and the maiden flight of Vega C in 2022" commented Giulio Ranzo, CEO of Avio.