Media and Stories |

Press release
The European Commission signs a record contract for 5 Vega C launches for the Copernicus constellation
29.11.22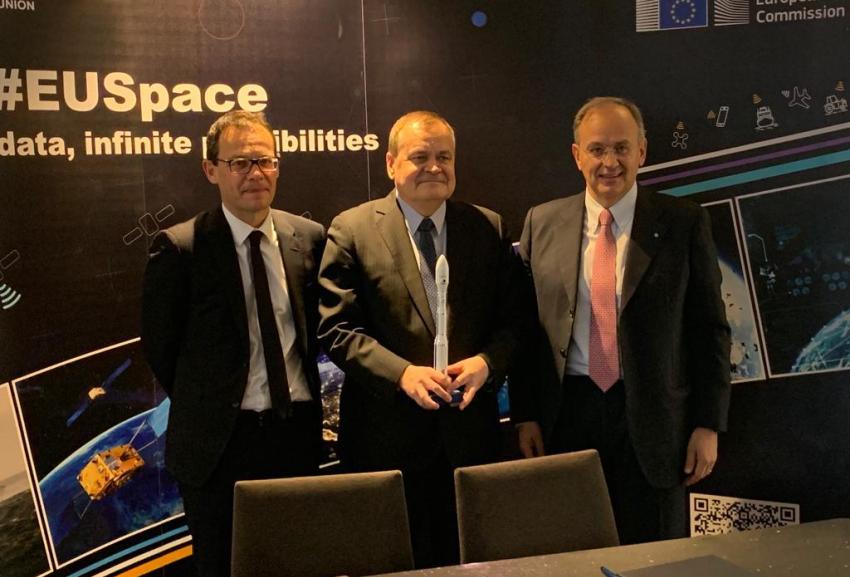 Rome, 29 November 2022 – Avio announces the signature of a contract by Arianespace with the European Commission for five Vega C launches for the Copernicus earth observation constellation satellites, to be executed between 2024 to 2026.

The satellites will be used, among other things, to accurately monitor land surface and ocean temperatures, air quality, and to improve the estimation of global emissions of carbon dioxide and other pollutants in order to support the achievement of the global decarbonization and emissions reduction goals.

Thanks to this contract, the Vega C launch backlog reaches 13 flights, plus 2 Vega launches, for a total of 15 flights, demonstrating Europe's autonomous access to space capability. Thanks to its high performance and flexibility at a low cost, Vega C represents the most convenient and versatile solution to launch of Earth Observation satellites in Low Earth Orbit.

For the European Union's Copernicus constellation, Vega had already launched the Sentinel 2-A satellite into orbit in June 2015 and Sentinel 2-B in March 2017.
"While we are working in Kourou to prepare for the second launch of Vega C scheduled for the 20th of December, this additional key contract significantly extends the backlog of Vega C, the sole European space launcher qualified for institutional missions of the European Union's Copernicus constellation" - said Giulio Ranzo, CEO of Avio.
"We would like to thank our commercial and institutional partners and the entire Avio and Arianespace teams for their great teamwork to ensure Europe's autonomous access to space," Ranzo concluded.