Media and Stories |

Press release
AVIO: Successful Flight for the Ariane 5 VA229
09.03.16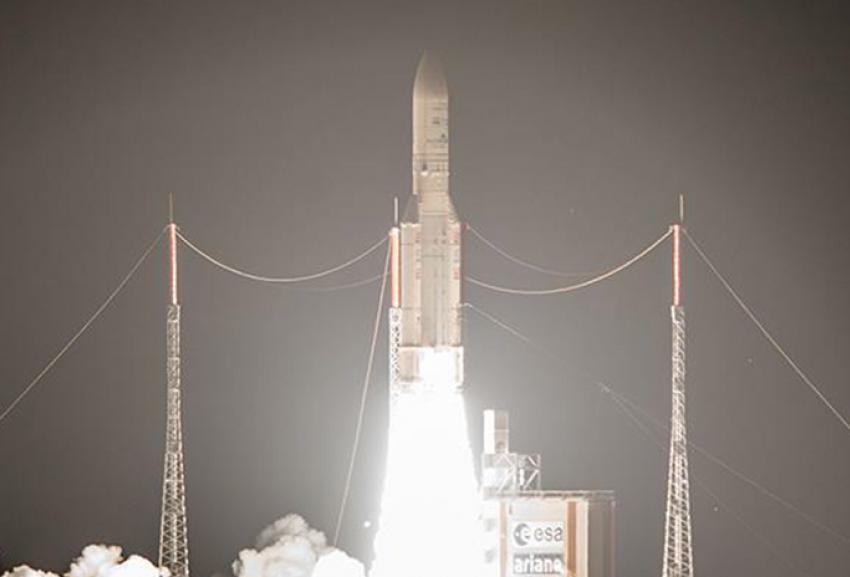 The mission lifted off at 02:20 AM local time, 06:20 AM in Rome, from the Kourou European Space Centre in French Guiana, and lasted for a total of 27 minutes and 23 seconds. EUTELSAT 65 WEST A was correctly placed into a geostationary transfer orbit.
Giulio Ranzo, CEO of AVIO, commented, "We are very pleased with the success of this mission, we feel we are a part of the European Space Programme because we are also Prime Contractors of the VEGA launcher, the most recent new-generation European launcher. AVIO is involved in the Ariane 5 European launcher, as we make the liquid oxygen turbopump for the Vulcain cryogenic engine and the two lateral engines loaded with approximately 230 tonnes of solid propellant. Today's flight takes us to 170 engines built for Ariane 5; 310 if we also take those built for Ariane 4 into consideration. Our success is proof of the reliability of our engines and of the high level of technological expertise reached by our teams in Italy, France and French Guiana. This flight represents the 71st consecutive fault-free mission for Ariane 5, proof that the launcher is extremely reliable."
EUTELSAT 65 West A is the 31st satellite launched by Arianespace for satellite operator EUTELSAT. This tri-band satellite was built in California by Space System Loral (SSL) and designed to meet the increase in market demand for video and broadband in Latin America. Its powerful beam in KU band enables DTH (direct-to-home) reception of digital channels and HD reception in Brazil with 60 cm satellite dishes, and will make it easier for businesses in Central America, the Caribbean and the Andean region to get an internet connection.