Media and Stories |

Press release
Avio: Contract Signed For 10 Ariane 5 Launches
22.02.18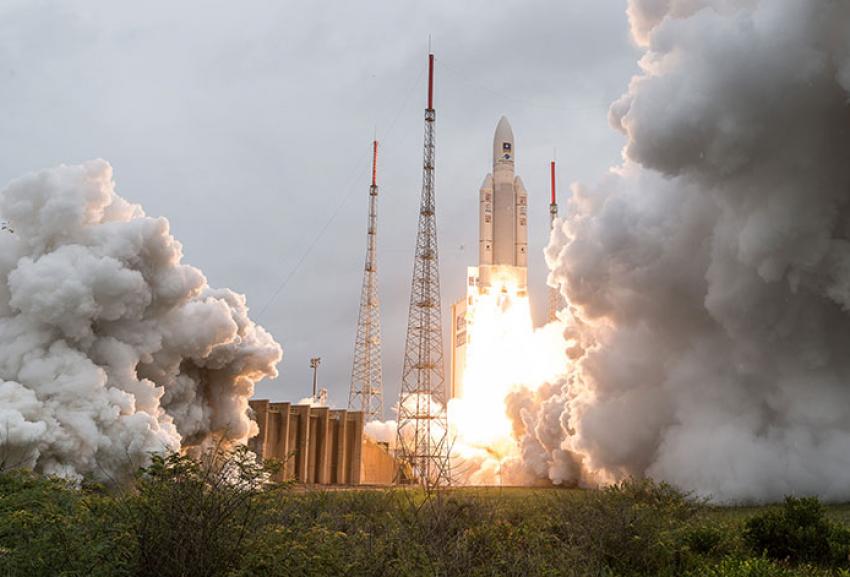 Production on the final lot before arrival of new Ariane 6 gets underway
Colleferro, February 22, 2018 – Avio and Europropulsion have signed in Paris a supply contract for the coming 4 years for the final Ariane 5 production lot.
The Ariane 5 contract signed in Paris is the end point of a European Space Programme which began nearly 30 years ago: from 2020 in fact, Ariane 5 – which has made aerospace history – will gradually be replaced by Ariane 6, a new and better performing launcher for which Avio produces in Colleferro the booster case of the P120C in carbon fibre and, through the subsidiary Regulus in French Guyana, carries out the solid propellant loading.
The same P120C motors, used for Ariane 6 as boosters, will however be utilised as the first stage of the evolving European Vega C and Vega E launchers (which hold the world record of 11 successful launches from the qualifying flight). Vega C's qualifying launch will take place in 2019.
"The contract signed in Paris is the culmination of a journey lasting 30 years involving our enterprise's fruitful co-operation with our European partners, developing singular expertise in the solid propulsion sector and delivering unequalled results in terms of product reliability – stated Chief Executive Officer Giulio Ranzo. After this fantastic experience, we enthusiastically tackle the fresh challenges which Ariane 6 brings".