Media and Stories |

Press release
AVIO ONCE AGAIN CONFIRMS RELIABILITY
09.09.16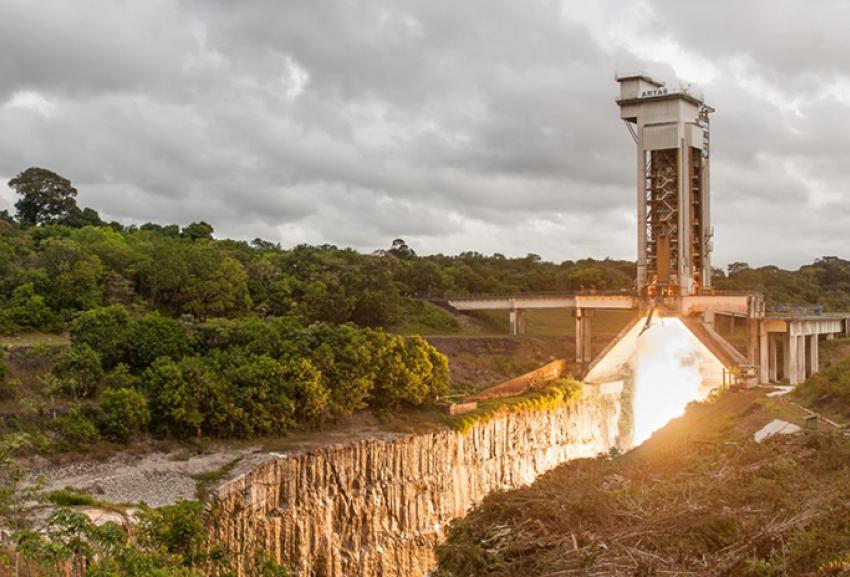 Firing test of the Solid Rocket Motor (MPS) of the Ariane 5 booster in Kourou, French Guiana, concluded successfully. This was the sixth firing test of ARTA (Accompagnement et Recherche Technologique Ariane), an ESA programme that has the objective of maintaining the qualification status of the Ariane 5 launch system.
"Avio has a hundred years of experience in propulsion systems and fifty years of space history," remarked Giulio Ranzo, CEO of Avio, "The result of this is confirmation that launcher reliability is built starting from a concrete base that is consolidated over time and with high level partners."
The first firing test, ARTA 1, took place on 16 May 2000, followed by ARTA 2 on 20 November 2001, ARTA 3 on 9 November 2004, ARTA 4 on 5 June 2008, and ARTA 5 on 4 May 2012. ARTA 6 was carried out four years after ARTA 5.
The objectives of the ARTA 6 firing test were:
to verify the reproducibility of the behaviour of the motor
to qualify materials introduced to increase Ariane 5's competitiveness.
The firing test enabled the qualification of a new supplier of aluminium for the propellant, with the dual outcome of an alternative supply and a decrease in costs. It also validated the elimination of the sandblasting process on the metal casings prior to the application of the thermal protection, thus reducing production costs. Additionally, the firing test qualified a new steel for the igniter of the Ariane 5 boosters.
The test also provided some important data, including a precise verification of the reproducibility of the motor's performance in terms of thrust and the behaviour of the thermal protection, by means of specific measurements that cannot be made in-flight.
The Solid Rocket Motors (MPS) of Ariane 5 are manufactured by Europropulsion, a 50/50 joint venture between Avio and ASL (Airbus Safran Launchers). Avio has direct responsibility for the production of the internal thermal protection and the solid propellant, a crucial element for the performance of the motor and the igniter, while ASL is responsible for producing the nozzles.