Media and Stories |

Press release
Avio: 100th Launch with Ariane 5
26.09.18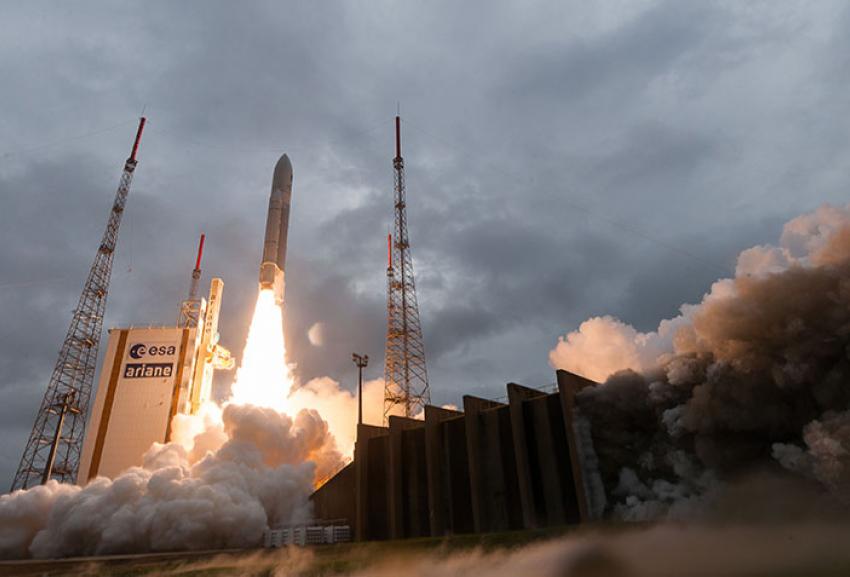 ITALIAN SPACE TECHNOLOGY: THE STAR OF THIRTY YEARS OF COLLABORATION WITHIN THE EUROPEAN PROGRAMME
Colleferro, 26 September 2018. Mission number 100 of the European launcher Ariane 5 was a success. The launcher exploits the power of the solid propulsion engines and of the Vulcain liquid oxygen turbopump manufactured in Italy by Avio, market leader in space propulsion.
Avio has been part of the Ariane 5 programme for over thirty years, since the launcher development stage and, later, during the manufacturing of the fundamental components to ensure the success of the phases of the launch at each mission. In fact, Ariane 5 had its maiden flight in 1996 and, in over twenty years of operations, there has been a long line of successes culminated in mission 100 which placed two telecommunication satellites in orbit: Horizons 3e and Azerspace-2/Intelsat38.
Giulio Ranzo, CEO of Avio, said: "This important milestone is the symbol of a success story: the story of Ariane 5 and Avio, which with its technological and manufacturing know-how has contributed greatly to the success of an ambitious European programme in collaboration with all the other partners involved."
"The success of Ariane 5 – concluded Ranzo – inspires us to do even better with the new-generation launchers Ariane 6 and Vega C, an evolutionary development of Vega, which are the future of access to space for increasingly sophisticated and demanding Clients".