Media and Stories |

Press release
Ariane 5: Second Flight of 2018 is a Success
06.04.18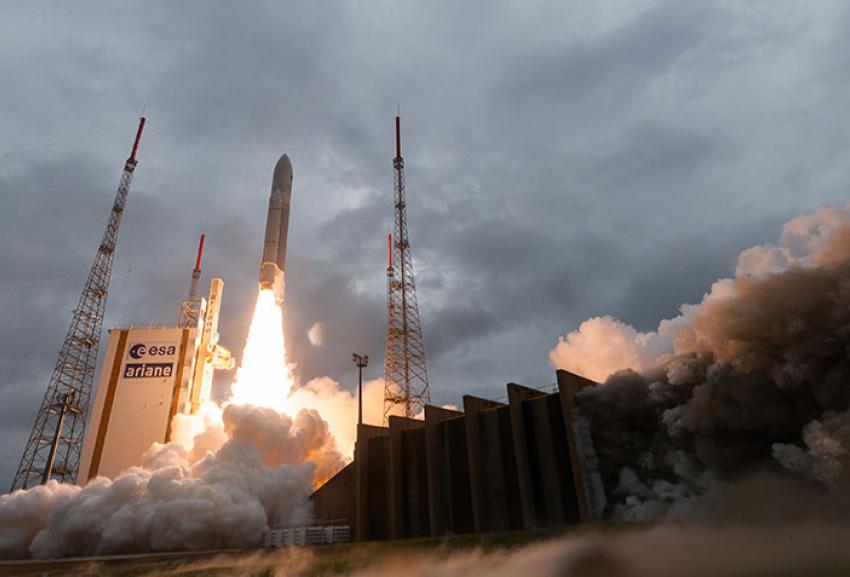 JAPANESE AND ENGLISH SATELLITES ARE PLACED IN ORBIT
Colleferro, 06 April 2018 - Ariane 5 has successfully completed its second mission of 2018, correctly positioning two satellites in orbit: DSN-1/Superbird-8 and HYLAS 4.
DSN-1/Superbird 8 is a telecommunications satellite for Japanese operator SKY Perfect JSAT. Equipped with high-performance relay systems, the satellite will mainly provide telecommunication services for the Japanese market.
HYLAS 4, instead, is a communications satellite operated by British carrier Avanti Communication. It will offer secure and reliable telecommunication services to ISPs, mobile phone operators, governments and satellite operators across Europe. The broadband satellite will also serve areas of Western and Central Africa.
Avio provides the solid propulsion engines and the Vulcain liquid oxygen turbopump for the Ariane 5 launcher.
Avio's CEO Giulio Ranzo had the following to say: "We're extremely pleased with this latest Ariane 5 success, as we've been contributing to this programme for over 20 years. Last February we delivered the 200th segment of the solid propellant booster, an important milestone of industrial maturity which is reflected in the elevated reliability of the solid propellant propulsors ."
"2018 – Ranzo added – will be a crucial year for the development of the new Vega C launchers, whose maiden flight is scheduled for late 2019, and Ariane 6, whose qualifying launch will take place in 2020. The new programmes are moving forward exactly according to schedule: a few weeks ago we successfully completed the bench test for Zefiro 40, the second stage of Vega C. Next summer, instead, we will test the P120 C engine that will be used for both the first stage of Vega C and the side boosters of Ariane 6."