Media and Stories |

Press release
AVIO: Successful Flight for the Ariane 5 VA231
05.10.16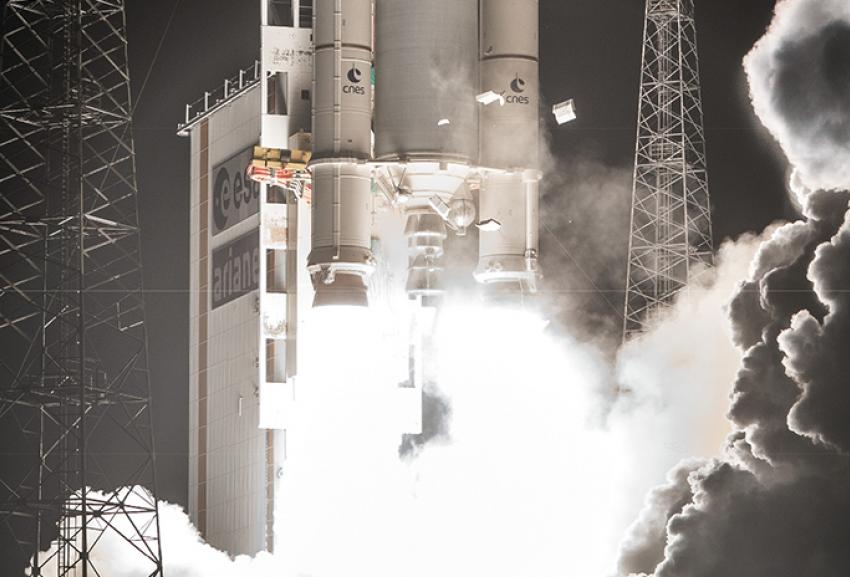 The Ariane 5 European launcher has achieved its fifth success of 2016 by successfully putting two telecommunications satellites into orbit: Sky Muster II and GSAT-18.
The mission lifted off on 5 October from the European Space Centre in Kourou, French Guiana, at 17:30 local time, 22:30 CET.
Sky Muster II is the second satellite put into orbit by Ariane 5 for the Australian operator, nbn (National Broadband Network); the first Sky Muster satellite was put into orbit in September 2015. Built by SSL (Space System Loral), Sky Muster II is one of the largest communication platforms around with an estimated lift-off mass of 6,400 kg.
GSAT-18 is a telecommunications satellite weighing 3,400 kg, developed by the ISRO (Indian Space Research Organization). Once in orbit, it will replace the satellites currently providing national services on multi-frequency bands. Ariane 5 will also put the GSAT-17 satellite into orbit in the future.
AVIO products have been used in all 280 missions by the Ariane family of launchers. Avio contributed approximately 15% for the largest of the family's launchers, Ariane 5, notably providing the solid propulsion engines and a liquid propulsion turbopump. Each of the solid engines is loaded with approximately 237 tonnes of propellant, providing the necessary force to carry the launcher outside the atmosphere, while the liquid oxygen turbopump feeds the Vulcain cryogenic engine.
Giulio Ranzo, CEO of Avio, had this to say: "Once again, and with the same excitement as ever, we are contributing to the success of this great European launcher, for which Avio designs and builds the powerful solid propellant engines and the highly sophisticated Vulcain liquid propulsion turbopump. Our engineers in Italy, France and French Guiana have again showcased their great technical expertise and the outstanding reliability of our products, which is a huge success for Italy and for our European partners!"