Media and Stories |

Press release
Ariane 5 successfully launched the JUICE probe for the study of Jjupiter and its moons
14.04.23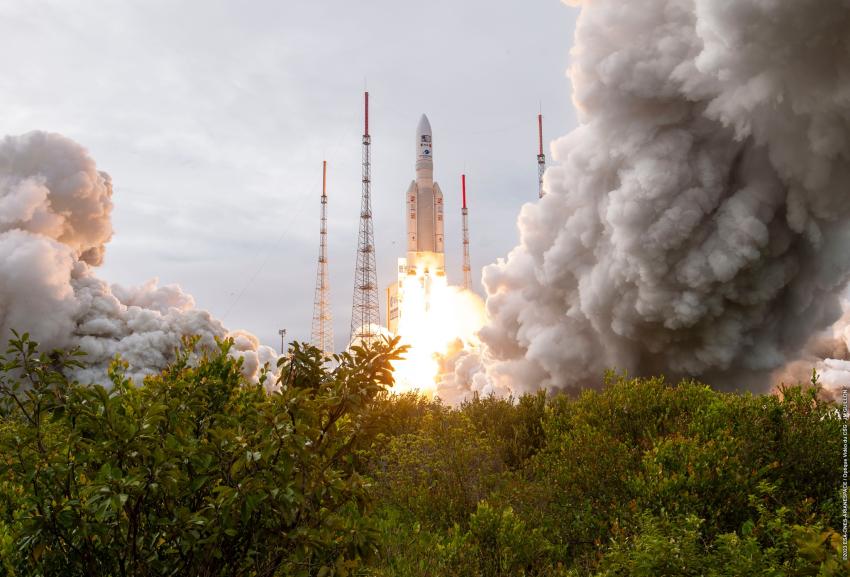 Colleferro, 14 April 2023 – The Ariane 5 rocket has successfully launched the JUICE probe of the European Space Agency from the Guiana Space Centre in French Guiana.
JUICE's mission is to study the planet Jupiter along with its three large ocean-bearing moons – Ganymede, Callisto and Europa – with a suite of remote sensing, geophysical and in situ instruments. The spacecraft will reach Jupiter in 2031.
Avio contributed to the success of Ariane 5 flight VA 260 through the two solid rocket boosters P230, which provide 90% of the rocket thrust at liftoff as well as the Vulcain 2 oxygen turbopumps. The turbopump is the first one entirely produced with its new supply chain and integrated in its Colleferro premise. Avio is part of the Ariane 5 program since the beginning and the P230 motors performed well in all the flights. The company is also providing the P120C solid rocket boosters for the new Ariane 6 launcher.
Giulio Ranzo, CEO of Avio commented: "We are proud to have contributed to this important European scientific mission and to the whole Ariane 5 program. With Vega C and Ariane 6 Europe will continue to have an independent access to deep space in the near future".