Media and Stories |

Press release
Vega: Tenth Consecutive Successful Mission
02.08.17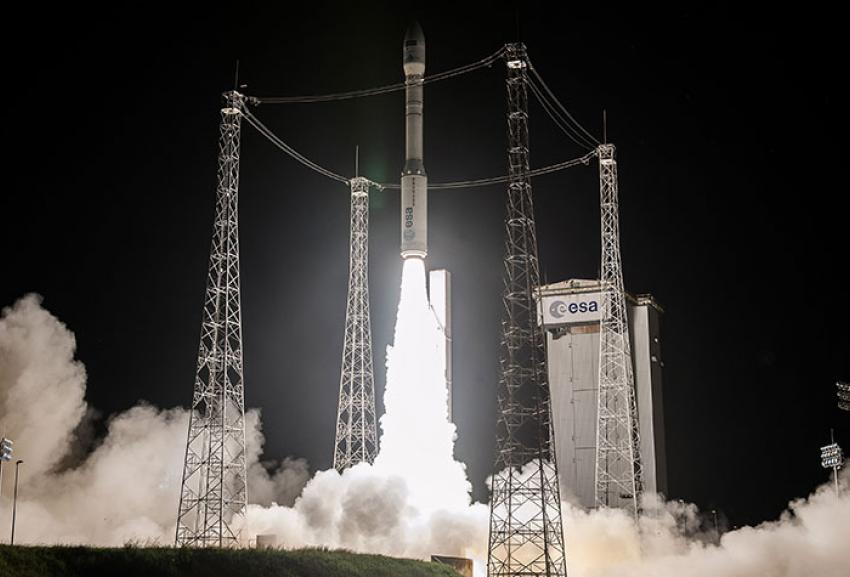 Kourou (French Guiana), 2 August 2017 – The European space launcher Vega has successfully concluded its tenth mission, the second of 2017, by correctly placing into orbit OPSAT-300 and Venus, two Earth observation satellites. This event consolidates Vega's excellent reliability in the sector of space launchers; in fact, it is the first time that a new launcher has performed its first 10 debut launches without any anomalies.
Liftoff from the Space Centre in Kourou, French Guiana took place on 1 August at 22:58 local time (03:58 on 2 August in Italy). This is the fourth launch in the last 10 months, a clear demonstration of the Vega launcher's reliability and flexibility.
"10 missions, 10 successes: Vega has achieved a level of performance and reliability that is unmatched," remarked Giulio Ranzo, CEO of Avio. "We are proud of this result, the first achieved by Vega following the Stock Exchange listing, which attests not only to the great reliability of our products but also to the effectiveness of our collaboration with Arianespace and with our European industrial partners".
"We have been successful in our efforts to develop new technologies and increasingly performant launchers to satisfy the increasingly sophisticated needs of our customers," Ranzo added. "In Colleferro (Rome) we have just completed the first booster case for the P120, the largest monolithic solid-propellant motor made entirely of carbon fibre that will equip Vega C and Ariane 6, the new European launchers that will fly in 2019 and 2020″.
"The successes achieved by the Vega launcher are driven by the capacity to innovate, do research and identify competitive and reliable solutions for the launcher market", Roberto Battiston said, President of the Italian Space Agency. "Satellite infrastructures are growing and will be increasingly pervasive: it has been paramount to develop a family of European launchers able to ensure access to space and the competitiveness of the whole space value chain. In this context, Avio's role and capabilities represent a certainty",  Battiston concluded.
"We are very proud to share this tenth consecutive success of the light-weight vehicle Vega from the Guiana Space Center alongside our industrial prime contractor Avio" said Stéphane Israël, CEO of Arianespace. "Our partnership is key to the success of Vega, which, launch after launch, stands as the benchmark launcher of its class and whose excellence and versatility allow us to offer our customers increasingly competitive launch solutions."
OPSAT-3000 is an Italian-Israeli satellite for Earth observation resulting from the cooperation between Telespazio and IAI (Israel Aerospace Industries). Venus is a French-Israeli satellite for Earth observation based on a cooperative venture between CNES (the French Space Agency) and ISA (the Israel Space Agency).
Both satellites, precisely placed into orbit by Vega, will transmit data and images for the Earth observation and the assessment of the impacts of climate change on vegetation.
Vega
Vega is a European launcher that was designed, developed and built in Italy by Avio, through its subsidiary ELV (30% owned by ASI, the Italian Space Agency). It belongs to a new generation of vehicles designed to transfer satellites into low Earth orbit (between 300 and 1,500 km from Earth) for institutional and scientific purposes, in order to observe the Earth and monitor the environment. 65% of the funding for Vega came from Italy and it was built in the Avio production plant in Colleferro, near Rome. It complements the family of European launchers and it is capable of placing into orbit satellites with masses of up to 2,000 kg.